SUPERIOR
PROFESSIONAL
3.8 oz. SPUNBONDED LANDSCAPE FABRIC
Commercial landscape Fabric in easy to use size. Great for all size jobs. Allows water, air herbicides, fertilizer and insecticides to flow into the soil with a
300 GAL/MIN SQ FT
water flow rate.
Roll Size
3' X 100' Small Roll

6" X 300' Roll

Used for multiple purposes.
(Erosion barrier, Underlay, Siltbarrier for French drains, and Weed block)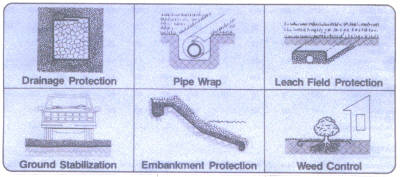 NURSERY GROUNDCOVER FABRIC
Heavy-duty woven 3.2-oz. polypropylene fabric
Resists tearing, puncturing and weed penetration.
Approved for most government weed control applications.
Ideal choice for greenhouses, outdoor displays
and as a weed barrier or plantings without topical coverings.
UV-stabilized fabric holds up in direct sunlight.
Striped every 12in. to aid in plant alignment.

Roll Size
4' X 300' Small Roll

10" X 300' Roll